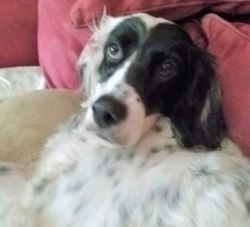 Hi, I'm Marcy Basile, owner and Chief Creative Officer at Blue Setter Creative. Here's my 'why.'
One day, while gazing into the back yard, I noticed my English setter, Betty, had gone 'on point' for an airplane flying overhead. She saw that plane as a regular old bird; not once did she believe that 'bird' was too far away or too big for her to catch. Without those constraints, the plane was totally catchable.
Betty's vision stuck with me. And, as with all great ideas, I decided to pivot into the 'big dream' and combine all my loves: graphic design, business, athletics and wellness. As a former journalist with two major newspapers, more than 20 years experience in corporate communications that included website copy and design, almost two decades running service industry businesses, and an undying love of sports, I am drawn to helping women-owned businesses achieve their own big bird dreams.
Blue Setter Creative. Let's soar together.